Episodes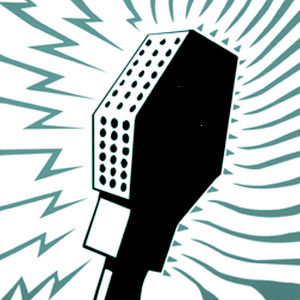 Thursday May 03, 2012
Thursday May 03, 2012
In this post, a real rarity.  "Weird Tales" was a series (or perhaps a proposed series) recorded in Hollywood in 1932 and based on stories in the famous horror anthology magazine.  So far, discs from the series haven't turned up - until now.
I obtained this disc from Jim Blackson and would like to thank him for the transfer you're listening to here - the disc is almost 17" across and just too large for my transcription player.  Jim had two of these discs, both with blank Columbia labels like this and both part 2 of "The Curse of Nagana".  However, they seem to be different takes.  He saved a copy of both so we could compare the discs. I'd also like to send a shout-out to Stephen Haffner for help with this post.  Haffner is the proprieter of the
Haffner Press
, a publisher of mystery fiction that was offering a
limited edition set of stories
by a "Weird Tales" author - the set included, as a bonus, a reproduction of the flyer sent to radio stations promoting the series.  He was generous enough to forward a digital copy of the flyer to give some background on what you're hearing. The series (or proposed series) was produced by Hollywood Radio Attractions, 4376 Sunset Drive, Hollywood.  In a promotional flyer for the program, they advertise three episodes that had been produced - the company was planning to record a total of 52 half-hour shows.  Similar to "The Witch's Tale", the show was created in such a way that they could be played as one half-hour program each week or split into two fifteen minute shows, completing one story each week.  So, what you're hearing is part two of "The Mystery of Nagara", which, if run on-air, could be run as a self-contained fifteen minute show, likely with an introduction and commercial by a local announcer. This disc, along with the other take of part 2 of this episode, seem to be the only discs that survive from the series.  The other shows would have been a fascinating listen - they got some top Hollywood acting talent for the programs.  Here's a rundown of the episodes listed as being available in the flyer:
Program 1 - "The Living Dead", based on Kirk Mashburn's Novellete, "De Brignac's Lady" with Jason Robards, William Farnum, Viola Dana, Richard Tucker, John Ince, Wally Reid, Jr. and featuring music by the "Mata Hari Orchestra direct from Grauman's Chinese Theatre, Hollywood, California"
Program 2 - "The Curse of Nagana", from Hugh B. Cave's short story "The Ghoul Gallery" with Richard Carle, Johnny Harron, Florence Britton, Cyrill Delavante, John Ince, Pierre White, Lucille Amaya with music by an "Arabian Orchestra".
Program 3 - "The Three from the Tomb", from a novel by Edmund Hamilton with William Farnum, Bert Roach, Prisicilla Dean, Pat O'Malley, John Ince, Frank Glendon and Robert Hoover.
The actors on the shows were experienced in Hollywood films.  Jason Robards, featured on the first program, is actually Jason Robards, Sr., the father of the actor you might be more familiar with.  The elder Robards appeared in silent and sound films and television through the 1950s.  Richard Carle and the other actors featured in "Nagana" were all experienced character actors in films. All of the shows were adapted by Oliver Drake and produced by Irving Fogel, a producer and recording executive that had a long career in Los Angeles.  Fogel, according to Christopher Sterling's "Encyclopedia of Radio", acted as a producer on some early Armed Forces Radio programming.  Drake was a writer and director in Hollywood, primarily with Westerns, from the silent era through the 1950s and worked on television shows such as "The Adventures of Superman", "Laramie" and "Lassie". Scholars looking at the history of "Weird Tales" magazine have heard about the series for years, but no recordings of the shows themselves or much detail about the series have surfaced.  After considerable searching through Google and subscription newspaper databases, I can't any reference to the series or these particular shows actually being broadcast.  My guess is that the three shows were recorded and promoted to stations, but that it just didn't sell. Horror was a bit of a tough genre to sell to sponsors.  At a time when sponsors were identified closely with the programs they advertised on, it would be difficult to find a local or regional advertiser that was a good fit.  Combine that with some likely belt-tightening with the Depression going full-swing and the glut of transcription programming available and it likely doomed the project.  The other programs in the series probably weren't produced and, with no or few airings of the three shows that were made, that would explain why discs from the series just haven't turned up. Again, I would like to thank Jim Blackson and Stephen Haffner for their help with this post. The mp3 you're hearing was transferred directly from the Columbia one-sided laminated shellac transcription, matrix number I-1511 with notations of "IA" and "HRA2".  The disc features a blank Columbia Sound-on-Disc Division label, so it is likely a test pressing. If you have any additional info or thoughts on the "Weird Tales" series, please leave a comment or
drop me a line
.